High-Quality Residential Portable Homes in Australia
Welcome to Elite Portables, Australia's trusted leader in premium modular construction solutions. Our team designs and builds high-quality transportable homes where style and comfort are front and centre. Whether you're looking for temporary or permanent accommodations, our innovative custom builds will provide long-lasting performance and durability.
Affordable Options for Residential Portables
At Elite Portables, we deliver quality and innovation in everything we do. We work closely with every one of our clients to create the ideal residential dwelling to suits their requirements. With over five decades of industry experience, our expert staff create customised residential portable and modular buildings which are built to last. We prioritise quality whilst also keeping prices affordable for ultimate client satisfaction. 
If you're looking for a quality family home, we have you covered with an impressive range of portable homes using modular designs, perfect for your needs. Our family-friendly builds come fully equipped with all standard electrical features, and fitted with high quality interior finishings. 
Our team are highly experienced and skilled in building granny flats. We offer designs in a range of shapes and sizes to suit different lifestyles and needs. At Elite Portables, we can also custom design your space, and deliver your portable granny anywhere across Australia.  
We are experts at creating tiny homes with room for everything you need. Thanks to our smart furniture and storage designs, Elite tiny homes offer an exciting lifestyle change with a reduced carbon footprint and greater flexibility.
Let's create a portable home office with ample storage to help you stay organised and get your work done in the most efficient and effective way possible. Rest assured your portable home office will fit seamlessly into the design of your home. 
Our design team can also add additional parts to transportable homes to make them feel even more spacious and comfortable. Popular options include a carport to keep your car safe and a patio area for practical outdoor entertaining. 
You've made the right choice for choosing Elite
We offer you benefits you simply won't get with other builders. Our experienced team can guide you through every step of the process from concept to construction. You've made the right choice and are going with one of our stylish, affordable spaces — next steps are simple.
Affordable because you're buying direct from the manufacturer
Available in "Off The Shelf" and Custom Designs
Manufactured in Australia
Delivered pre-assembled or in flat pack
Delivered anywhere in Australia
Upgrade to higher corrosion zone or wind zone
Take a look at some of our completed projects for inspiration and start dreaming big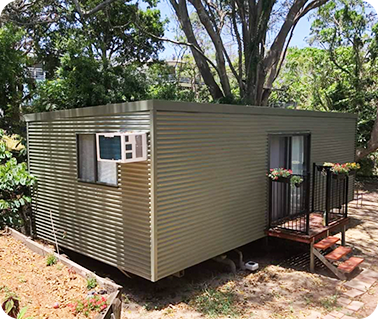 Getting started is easy, check out our Price Guide
Elite Portables — your cost-effective home solutions. By working with Elite Portables, we ensure you only pay for what you need.
Got questions? We've got answers
How long will it take to construct my portable building?
In most cases your portable building will take 10-12 weeks to complete, if we encounter delays,
we will communicate these to you immediately, so you are always in the loop about our
progress at all stages of the building process.
Can you give me a fixed price quote?
Definitely, we will not proceed manufacturing your new portable granny flat until you have agreed to our fixed price, written quote.
Can the portable granny flat be relocated in the future?
Absolutely, Elite Portable Buildings are engineered with so much strength, they can be relocated as often as required.
Driven by our Customer's needs
"Fantastic service! I'm thrilled with my purchase and everything I asked for and changed as the construction progressed was catered to a high standard. I personally highly recommend Elite Portables team!"
Paul Brown | Pittsworth, QLD
"Excellent services and worked with me to tailor our little home to meet our needs. No issue was unfixable and that's appreciated big time with a building project. Standout team. "
Georgina McGrath |  QLD
"Elite Portables were fantastic! Our cabins are really well built and the staff very efficient and friendly. They quickly rectified any issues we had. We would happily recommend this company to anyone looking for a cabin. "
Barbara Schaefer |  QLD
Discover Best-Selling Portable Dream Homes & Custom Builds in Australia
Elite Portables offers flexibility and convenience with robust residential portables available all across Australia. We will help you find the right design for your needs, with custom build options to ensure the perfect fit. Contact us online to learn more about our innovative approach to modular home design. 
Ready to get started? Contact our team today!