We work hands on with our clients to ensure the most time-efficient and cost-effective solutions from beginning to end. Our process is easy to follow and straightforward. Having a simple process is part of what makes us the attractive and sensible choice.
Affordable because you're buying direct from the manufacturer
Manufactured in Australia
Delivered pre-assembled or in flat pack
Delivered anywhere in Australia
Our experienced team are with you every step of the way with a refined process that's easy to follow: 
Pick a design, colours and extras
Assembly by our expert team
Building is delivered to you
Portable Granny Flat Building Process
Our unique process is as follows:
Firstly, the base of your portable building is delivered onsite and ready to be assembled. Then our steel frame walls and roof are constructed by our expert team and your portable building is assembled to your exact specifications. And lastly, your portable building is delivered to your site and ready for use.
Our unique steel-framed and modular builds are sold affordably because it is directly from the manufacturer. Our "off the shelf" and custom designs are readily available depending on your preference. Aside from being manufactured in Australia, we also deliver our products anywhere within the country. Delivered pre-assembled or flat-packed, our cyclone rated builds are the logical choice.
Getting started is easy, check out our Price Guide
Elite Portables — your cost-effective home solutions. By working with Elite Portables, we ensure you only pay for what you need.
Take a look at some of our completed projects for inspiration and start dreaming big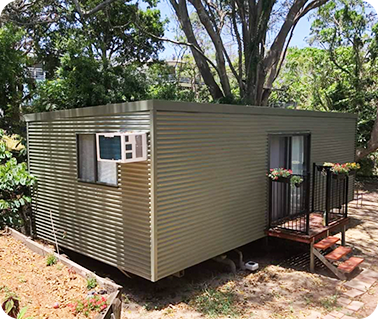 Got questions? We've got answers
How long will it take to construct my portable building?
In most cases your portable building will take 10-12 weeks to complete, if we encounter delays,
we will communicate these to you immediately, so you are always in the loop about our
progress at all stages of the building process.
Can you give me a fixed price quote?
Definitely, we will not proceed manufacturing your new portable granny flat until you have agreed to our fixed price, written quote.
Can the portable granny flat be relocated in the future?
Absolutely, Elite Portable Buildings are engineered with so much strength, they can be relocated as often as required.
Driven by our Customer's needs
"Fantastic service! I'm thrilled with my purchase and everything I asked for and changed as the construction progressed was catered to a high standard. I personally highly recommend Elite Portables team!"
Paul Brown | Pittsworth, QLD
"Excellent services and worked with me to tailor our little home to meet our needs. No issue was unfixable and that's appreciated big time with a building project. Standout team. "
Georgina McGrath |  QLD
"Elite Portables were fantastic! Our cabins are really well built and the staff very efficient and friendly. They quickly rectified any issues we had. We would happily recommend this company to anyone looking for a cabin. "
Barbara Schaefer |  QLD
Ready to get started? Contact our team today!