Nowadays, more and more people are moving towards the tiny houses lifestyle as a way to own a home while keeping costs low, reducing their carbon footprint and creating greater flexibility in their lives. The portable building experts in QLD, Elite Portables share why you should opt for a portable tiny house.
Your Carbon Footprint Is Reduced
Portable tiny houses are sustainable and reduce your carbon footprint significantly. Tiny homes use fewer resources during and after construction, consume less energy and can even be recycled at the end of their lifecycle. With a portable tiny home that is built using sustainable technologies, you can do your part to help save our planet.
Tiny House Plans Are Customisable
Your tiny house plans are easily customisable and can be equipped with features that make your tiny home interiors feel spacious and well-organised. At Elite Portables, we are proud to offer our clients a variety of fully customisable portable homes. You can also explore our gallery or speak to one of our portable building experts for tips on personalising your tiny home so it meets all your unique needs and specifications.
Tiny House Accommodation Offers Flexibility
Perhaps one of the best things about a portable tiny house is that you have the flexibility to live wherever you want. Tiny houses don't require a lot of land and are infact suitable for most locations. They are also easy to move around and are built using high quality steel cladding, which ensures that they are not damaged during transportation from one location to another.
Tiny Houses Are Easy to Maintain
Since portable tiny houses are built using durable materials, they are easy to maintain from both the inside and outside. The outer steel cladding protects it from the elements and only needs to be power washed once in a while. The interiors are built using the latest construction methods and materials, which means they are built to last.
Take a look at some of our completed projects for inspiration and start dreaming big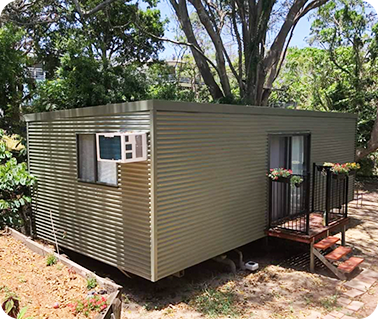 Getting started is easy, check out our Price Guide
Elite Portables — your cost-effective home solutions. By working with Elite Portables, we ensure you only pay for what you need.
Got questions? We've got answers
How long will it take to construct my portable building?
In most cases your portable building will take 10-12 weeks to complete, if we encounter delays,
we will communicate these to you immediately, so you are always in the loop about our
progress at all stages of the building process.
Can you give me a fixed price quote?
Definitely, we will not proceed manufacturing your new portable granny flat until you have agreed to our fixed price, written quote.
Can the portable granny flat be relocated in the future?
Absolutely, Elite Portable Buildings are engineered with so much strength, they can be relocated as often as required.
Driven by our Customer's needs
"Fantastic service! I'm thrilled with my purchase and everything I asked for and changed as the construction progressed was catered to a high standard. I personally highly recommend Elite Portables team!"
Paul Brown | Pittsworth, QLD
"Excellent services and worked with me to tailor our little home to meet our needs. No issue was unfixable and that's appreciated big time with a building project. Standout team. "
Georgina McGrath |  QLD
"Elite Portables were fantastic! Our cabins are really well built and the staff very efficient and friendly. They quickly rectified any issues we had. We would happily recommend this company to anyone looking for a cabin. "
Barbara Schaefer |  QLD
Start Designing Your Tiny House Today
Home ownership doesn't have to be expensive and stressful. Make your dreams come true with your very own portable tiny house. Contact Elite Portables through our contact form or on 1300 310 480 to discuss your requirements and start designing your tiny home today.
Ready to get started? Contact our team today!