Here's a list of questions we're frequently asked, with some helpful answers.
Or you can call us on 1300 400 278
Getting started is easy, check out our Price Guide
Elite Portables — your cost-effective home solutions. By working with Elite Portables, we ensure you only pay for what you need.
Take a look at some of our completed projects for inspiration and start dreaming big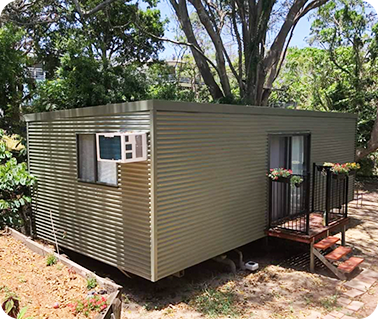 Driven by our Customer's needs
"Fantastic service! I'm thrilled with my purchase and everything I asked for and changed as the construction progressed was catered to a high standard. I personally highly recommend Elite Portables team!"
Paul Brown | Pittsworth, QLD
"Excellent services and worked with me to tailor our little home to meet our needs. No issue was unfixable and that's appreciated big time with a building project. Standout team. "
Georgina McGrath |  QLD
"Elite Portables were fantastic! Our cabins are really well built and the staff very efficient and friendly. They quickly rectified any issues we had. We would happily recommend this company to anyone looking for a cabin. "
Barbara Schaefer |  QLD
Ready to get started? Contact our team today!