We'll get on with the high quality portables perfect for your lifestyles
Want to tweak one of our existing home designs or want to completely customise and create your dream home? At Elite Portables, we're passionate about creating a high quality, stylish custom portable home that's perfect for your family.  
Build your dream design and enjoy the durability, cost-effectiveness, efficiency and convenience of transportable buildings. With over 30 years of experience in the construction industry, we can help make your dream a reality. Based in Toowoomba, we service clients throughout Queensland, Australia and overseas. 
Common Features of a Customised Home
Our custom build process often involves inviting you to look at portable buildings by design and advising us of the changes you'd like. This can include adjustments to account for: 
Accessibility for the elderly or people with disabilities
Narrow or otherwise difficult sites 
Luxury fittings, fixtures and finishes 
Higher corrosions or wind resistance 
Extra bedrooms, bathrooms, toilets, wardrobes, windows and kitchen space. 
Of course, we're also happy to work with you and bring a fully custom portable home design to life that suits your precise needs and aesthetic preferences.
The Process of Custom Transportable Buildings
Our team will draw up a concept plan that meets each of your requirements. Before finalising the design and commencing the build, we'll run it past you to ensure it accurately represents your vision. We'll also provide you with a fixed price quote and estimated project timeline. Looking at our transportable buildings by design can help you visualise the end result, complete with all the unique dimensions and custom fittings you need. 
Modify the shape, size, layout and finishes to your exact specifications to create a truly versatile space that meets all your needs now and into the future. Of course, customisation doesn't just apply to the layout and size of your unit. You can also customise your fixtures and fittings, including tiles, bench spaces, flooring and cabinetry. This allows you to achieve your ideal personal aesthetic, whether that's contemporary, minimalist, country-style or coastal.  
Take a look at some of our completed projects for inspiration and start dreaming big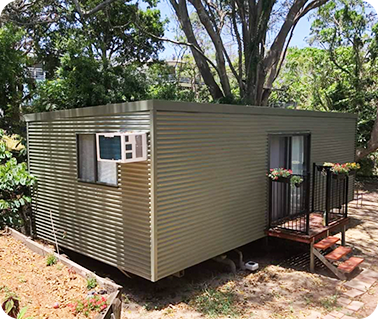 Contact Us for Custom Transportable Buildings in Queensland
At Elite Portables, we can cater to almost anything with our custom transportable buildings. Talk to our team if you need something a little different and we'll be happy to discuss how we can help bring your vision to life. For services in Queensland, across Australia and overseas, contact us today.  
Getting started is easy, check out our Price Guide
Elite Portables — your cost-effective home solutions. By working with Elite Portables, we ensure you only pay for what you need.
Got questions? We've got answers
How long will it take to construct my portable building?
In most cases your portable building will take 10-12 weeks to complete, if we encounter delays,
we will communicate these to you immediately, so you are always in the loop about our
progress at all stages of the building process.
Can you give me a fixed price quote?
Definitely, we will not proceed manufacturing your new portable granny flat until you have agreed to our fixed price, written quote.
Can the portable granny flat be relocated in the future?
Absolutely, Elite Portable Buildings are engineered with so much strength, they can be relocated as often as required.
Driven by our Customer's needs
"Fantastic service! I'm thrilled with my purchase and everything I asked for and changed as the construction progressed was catered to a high standard. I personally highly recommend Elite Portables team!"
Paul Brown | Pittsworth, QLD
"Excellent services and worked with me to tailor our little home to meet our needs. No issue was unfixable and that's appreciated big time with a building project. Standout team. "
Georgina McGrath |  QLD
"Elite Portables were fantastic! Our cabins are really well built and the staff very efficient and friendly. They quickly rectified any issues we had. We would happily recommend this company to anyone looking for a cabin. "
Barbara Schaefer |  QLD
Ready to get started? Contact our team today!