Portable rooms can be used for a number of commercial and residential uses. At Elite Portables, we have worked with several clients who have opted for the convenient and cost-effective option of building a portable room on their existing land. Here are some ways in which a portable spare room can create more breathing space and maybe even generating extra income, for you and your family.
Whether you have family and friends visiting you for months on end or just the sporadic guest from time-to-time, a portable guest room will offer both you and your guests more privacy and space. We understand that when you have guests visiting from out of town or overseas, you want them to be as comfortable as possible. You can have your very own spare guest room for a minimal investment and in very little time, with the portable room solutions at Elite Portables.
Looking to make some additional income? Why not consider investing in a demountable room? Instead of investing in a whole new property to rent out as holiday accommodation, you can build a rental property on your existing land. Portable rooms are cost-effective to build and are constructed using sturdy, durable, weather resistant materials that make them long-lasting and easy to maintain. The return on investment from your holiday rentals will be tenfold with a demountable or portable room.
Demountable Multipurpose Room
The possibilities of what you can do with a spare room are endless. Your portable rooms can be used as a multipurpose activity room, a kids' playroom, a storage area or a family entertainment area. If you're looking for a quiet space to work from, you can easily create a personal study in your demountable room. Since Elite Portables offers fully customisable portable rooms, you can design the room exactly according to your specifications and needs.
Take a look at some of our completed projects for inspiration and start dreaming big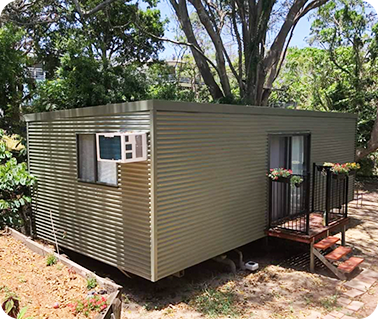 Getting started is easy, check out our Price Guide
Elite Portables — your cost-effective home solutions. By working with Elite Portables, we ensure you only pay for what you need.
Got questions? We've got answers
How long will it take to construct my portable building?
In most cases your portable building will take 10-12 weeks to complete, if we encounter delays,
we will communicate these to you immediately, so you are always in the loop about our
progress at all stages of the building process.
Can you give me a fixed price quote?
Definitely, we will not proceed manufacturing your new portable granny flat until you have agreed to our fixed price, written quote.
Can the portable granny flat be relocated in the future?
Absolutely, Elite Portable Buildings are engineered with so much strength, they can be relocated as often as required.
Driven by our Customer's needs
"Fantastic service! I'm thrilled with my purchase and everything I asked for and changed as the construction progressed was catered to a high standard. I personally highly recommend Elite Portables team!"
Paul Brown | Pittsworth, QLD
"Excellent services and worked with me to tailor our little home to meet our needs. No issue was unfixable and that's appreciated big time with a building project. Standout team. "
Georgina McGrath |  QLD
"Elite Portables were fantastic! Our cabins are really well built and the staff very efficient and friendly. They quickly rectified any issues we had. We would happily recommend this company to anyone looking for a cabin. "
Barbara Schaefer |  QLD
Explore Our Portable Room Solutions
Are you looking to create more space in your home? Choose from the broad range of portable rooms at Elite Portables. Contact us through our contact form or on 1300 310 480 to discuss your options.
Ready to get started? Contact our team today!