Our Range of Temporary Offices
Our Abigail comes with a standard office floor plan while also being fully customisable. Choose how many cubicles you need, whether you'd like to include a reception area or a meeting room and anything else you need. We can even design and build a workplace kitchen to meet the needs of your employees, ensuring they have a comfortable space to get the job done. 
Portable office spaces are ideal in industries that involve working on remote sites permanently or on a temporary basis. Our temporary offices are also ideal as a backyard home office. Whether you work at home or in construction, mining or any other industry that requires temporary office solutions, Elite Portables can provide a design that suits your needs.  
Designed for simple set up and pack down processes, you can move your portable office building with ease. Based in Toowoomba, our experienced team provides temporary office solutions across Queensland, Australia and overseas. 
Benefits of Temporary Offices
Transportable offices are often for temporary use but are built to last and made to suit the harsh environments found in Australia. This includes areas prone to bushfire, flooding, coastal air, flooding, storms and cyclones. Our temporary office building is particularly well suited for remote or rural areas where it can be harder to find ordinary building companies.  
A steel frame construction and extra strong steel-skid base ensures incredible, long term durability, allowing your organisation to comfortably move your portable site office multiple times without risking damaging the structure.  
Start planning your Office Space with Elite Portables
Portable office spaces are ideal for people who work in industries that require them to move around. Whether your business specialises in construction, mining or consultancy, we have an office design that will suit your needs. Our office spaces have been designed for simple set up and pack down processes, so you can move with ease.
To start planning your transportable office design with Elite Portables, get in touch with our friendly and experienced team.
Take a look at some of our completed projects for inspiration and start dreaming big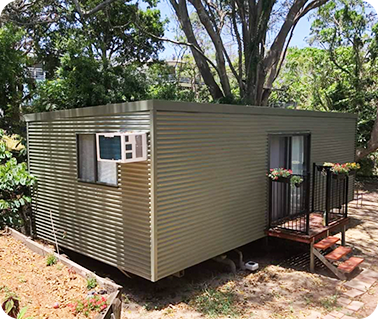 A pre-built portable site office can be delivered on site fully fitted out and complete. Once installed, it just needs to be connected to water and power as required. This means less on-site costs and faster construction time. At Elite Portables, we offer a complete service. We take care of the entire process from initial consultation to design, construction, delivery, crane hire and installation of your transportable office building. Read our FAQs to learn more about our process. 
Getting started is easy, check out our Price Guide
Elite Portables — your cost-effective home solutions. By working with Elite Portables, we ensure you only pay for what you need.
Got questions? We've got answers
How long will it take to construct my portable building?
In most cases your portable building will take 10-12 weeks to complete, if we encounter delays,
we will communicate these to you immediately, so you are always in the loop about our
progress at all stages of the building process.
Can you give me a fixed price quote?
Definitely, we will not proceed manufacturing your new portable granny flat until you have agreed to our fixed price, written quote.
Can the portable granny flat be relocated in the future?
Absolutely, Elite Portable Buildings are engineered with so much strength, they can be relocated as often as required.
Driven by our Customer's needs
"Fantastic service! I'm thrilled with my purchase and everything I asked for and changed as the construction progressed was catered to a high standard. I personally highly recommend Elite Portables team!"
Paul Brown | Pittsworth, QLD
"Excellent services and worked with me to tailor our little home to meet our needs. No issue was unfixable and that's appreciated big time with a building project. Standout team. "
Georgina McGrath |  QLD
"Elite Portables were fantastic! Our cabins are really well built and the staff very efficient and friendly. They quickly rectified any issues we had. We would happily recommend this company to anyone looking for a cabin. "
Barbara Schaefer |  QLD
Contact Our Team in Queensland to Buy Portable Office Solutions
For premium quality portable home office and commercial solutions, the team at Elite Portables will meet your precise needs. We help domestic and commercial clients to buy portable office buildings across Queensland, Australia and even overseas. Contact us today to start the conversation about your own temporary office building. 
Ready to get started? Contact our team today!